Pure Silence CD:
Lessons in Living and Dying
My dear friends, this CD is another gift from me to you. Perhaps by listening to it you might be drawn to that gentle space within, wherein lies your freedom and your destiny. I hope you enjoy it. Much love to you and those dear to you.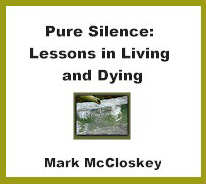 From The CD liner:
"The tracks on this CD were recorded as is: spontaneously. After spending some time abiding in silence I picked up a microphone and started speaking from my heart with all sincerity. There was no rehearsal; nothing was written beforehand. Rather, all the words arose from the Pure Silence of Being itself. I have merely spoken them to you with my own voice. The tracks were made over a period of 4 weeks in my home as I felt the truth well up in my heart. The real Author of these is the One Self, the One Spirit, that which has been called "I AM."
CD Tracks
1) Instrumental and Introduction
2) Something missing in your life?
3) Describing Pure Silence
4) Is there anything that lasts?
5) Giving up the Past
6) Let go what "you" believe
7) Being Nobody
8) Conquering Death
9) A tradition of Silence
10) What happens next? (Becoming like Teflon®*)
11) Instrumental and Epilogue
* Teflon® is a trademark of the DuPont Corporation
Music Copyright ©2002 Mark McCloskey
All Words Copyright ©2002-2007 Mark McCloskey
Reviews of the CD here
Price is $11.99 plus postage. Please allow 2-4 weeks for delivery. International orders may take a bit longer.
Proceeds will be given to feed and care for the world's hungry. If you wish to donate directly please click here: www.mercycorps.org
The CD can be ordered via Pay Pal by emailing: thepuresilence@gmail.com
[Now available: The entire Web site in E-Book form with a Text Reprint of the Pure Silence CD: Lessons in Living and Dying]